Working as a Massage Therapist in Ibiza | Katie's story
Have you ever wondered what it is like to work as part of a team of massage therapists with Ibiza Angels?
Well, here is your chance to find out! We asked Katie a series of questions about her time with us in Summer 2017!
Introducing Ibiza Angel, Katie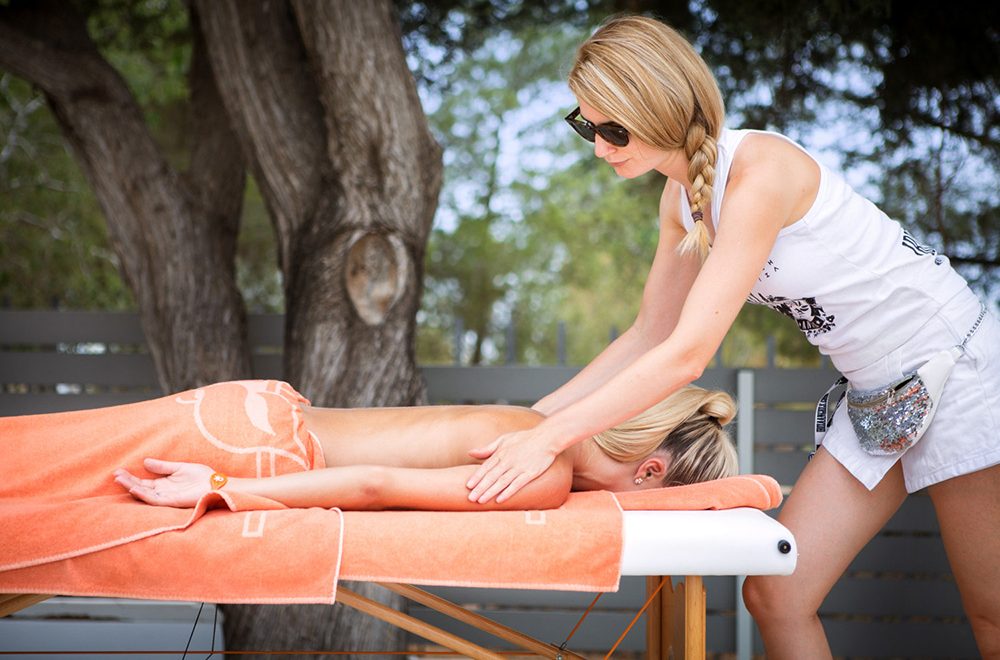 Katie has her own sports therapy and rehab clinic in the Lake District, UK. She took a short hiatus in the summer to follow a longstanding dream and work her first season as an Ibiza Angel.
Why did you want to join Ibiza Angels?
"I wanted to join this company as I was drawn to the professionalism – and the venues they offer their work in! On my interview I immediately felt warmed to both Polly & Joe and just felt it was right!!"
What was your role within Ibiza Angels? What venues/events were you part of as an Ibiza Angel?
"My role was to offer full body massage treatments in the most awesome of settings in Ibiza: Ocean Beach Ibiza and pool-side at Ocean Beach Hotel. Treatments range from Swedish massages through to an anti-stress back, neck and shoulder massage, to a powerful deep tissue treatment to providing sports massages, with taping if required and remedial treatments for sports injuries."
How long have you been with Ibiza Angels?
"This was my first season as an Ibiza Angel and I certainly enjoyed every single minute of it! I keep thinking 'why did I not do this sooner?!' It is an AMAZING professional company!"
What do you like most about working with Ibiza Angels?
"It is a once in a life time opportunity to fulfil a dream! Each day is different, I loved meeting a range of people from all walks of life. Also most importantly, the Angels, the bunch of lovelies I worked with!"
What was your typical day/lifestyle like?
"It was like a dream and I still can't believe I did it! My days did not feel like 'work'. A typical day consisted of waking up to the sunlight shining through my window, usually I tried to take a leisurely walk before I put my uniform on and head off on my 5min walk to work. I stopped off on the way to get a healthy smoothie or juice from Skinny Kitchen. I arrived at Ocean Beach to set up, ready to take on the busy day of treatments. I finished at 7pm so plenty of time to head home, get changed and have some social time, which usually consisted of meeting friends to watch the sunset at Mambo – or, when I had the day off the following day, to go to party  …we were in Ibiza after all! 
What is the most enjoyable part of your day?
"The fact that I walked to work in the morning with the biggest smile on my face says it all really! Every day is different: you meet so many great people…and this is what I love. Also getting to listen to some incredible DJs, all while I am at work! And you never know who you will treat next or what treatment will be required and that keeps you on your toes! Clients coming for treatments are not only those staying at the hotel or at Ocean Beach but general holiday makers and people who live on the island. They specifically came to see us for a massage or remedial treatment – which made me very proud"
What were your plans for the end of the season?
"At the end of the season I went back to my clinic in the Lake District as my clients were desperate for remedial treatments after my time away here! Although I miss the sunshine, the music and the spectacular parties at Ocean Beach every day – and the great clients I treated this summer – already I can't wait till next year to return!"
Best 'Ibiza Angel Moment' this season?
"There are so many to choose from but it's my 'Ibiza family' – the Angels – have made it so special!"
What is your favourite thing about Ibiza?
"I feel Ibiza is the most beautiful island, in love from my first visit a few years ago! It's vibrancy, cosmopolitan feel…it never sleeps…yet it can also be the most peaceful place too!"
Can you sum up your job with Ibiza Angels in one sentence?
"Ibiza Angels makes it possible to go to work for a really great company – while smiling from the start of the day to the very end."